Our projects
We collaborate with like minded businesses to make as much impact as possible. These collaborations can be shaped in different ways. Together, we analyse your plastic waste streams and determine which one to use and what product to make. We can also provide the plastic ourselves. Perhaps you have already seen a product in our webshop that would look great in your office? We can also make these products from your own plastic waste.
From conceptual design to final product
Would you like to make something using your own waste, but are you still in doubt about the design? Or do you have a design ready, but no idea how to produce this? Anything is possible!
We start every project by aligning on the design and determining the plastic waste stream. Sometimes, one of these is already very clear but often we still need to make some decisions in this stage. When the design is finalized and we have determined the material, we will make a prototype. We can use this to run some tests and to make sure that the printer settings are optimal. When everyone is happy with the prototype, we can start production!
Are you curious to hear what we can do with your plastic waste?
De Nederlandsche Bank
When De Nederlandsche Bank moved, they found a lot of old paper trays. These paper trays are made from polystyrene (PS), a material that we love to work with.
DNB wanted to use this waste stream to make a new product for the public spaces of their new office. We used the paper trays to make plant stands that are used to indicate walking routes in the open spaced lobby.
We sometimes use a client's waste stream to make products from our own collection. A good example of this is the project we did for Fairphone.
Fairphones have a modular design that allows you to easily replace parts when needed. Fairphone wanted to recycle the phone cases that were collected in this way, but no one could process this material because the metal Fairphone letters were glued to the plastic. Luckily we had a solution!
Our 3D printers are especially designed to be able to work with slightly contaminated plastic waste. We turned the Fairphone cases into these brightly coloured Delta's and a Lumbar for Fairphone's office.

If you'd like to learn more about this project, have a look at this video!
Rabobank Westland
Some clients don't have a plastic waste stream, but are still looking to make a statement with recycled plastic. Rabobank Westland wanted to add some extra shine to their foyer with a coffee table and two vegetable objects, referring to the region's main activities.
Therefore we made a coffee table that is inspired by the greenhouses that you see a lot in Westland. The large vegetable objects have a light, so that they glow a little bit and stand out even more.
For this project, we used plastic packaging waste that we have in stock.
Recently, HEMA replaced all make-up displays in their stores. This released more than 2.000 kg of plastic waste. These displays are made from a type of plastic (ABS) that is not currently recycled. By collecting the displays separately, we were able to recycle this waste stream into a valuable new product.
We made 35 recycling stations that are used in HEMA's headquarters. The bins are made completely from recycled plastic. Our 3D printers allow us to print in relief. We used this technique to add HEMA's logo to the side of the waste bins.
In order to distinguish between the different types of bins easily, we coloured the white material with pigment. In this way, we were able to produce the green, red and blue waste bins. This is how we stimulate HEMA's employees to separate their waste and support better recycling.
Better Future Factory
We regularly work together with other makers, such as the Better Future Factory. Together, we made a circular interior for the office of a Danish toy manufacturer. These products are partially made from their toys!
For this collaboration, Better Future Factory made the design and assembled the products. We 3D printed the frames of a.o. the table and stools you see in the photo.
Photo by Better Future Factory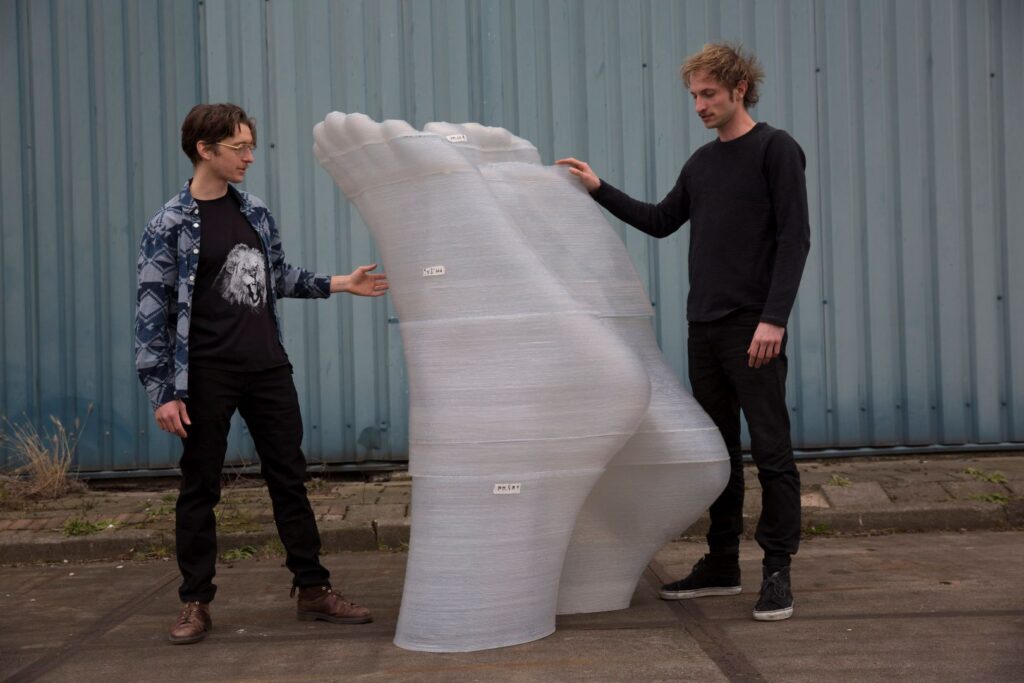 Artist Peter Smith from Stichting Klean collects plastic litter. In order to raise awareness of the plastic problem, he is working on a large statue of a reclining woman: the Plastic Madonna.
The artwork will be 12 meters long, 4 meters high and will be printed by vanPlestik. Because it is so big, we will print this in separate pieces that are welded together.
Litter usually consists of a lot of different types of plastic. Our printers can only process one type of plastic at the time. In order to separate the different types of plastic, we received help from a recycler who sorts, shreds and compounds the plastic. This is how we work together in the fight against plastic waste!
We designed and produced two eye-catching objects for the entrance of the new Student Hotel in Delft. These hot-air balloons are made from plastic packaging waste. They even have a light inside so that the balloons glow at night!
For this project we collaborated with another maker: the black steel frames are made by the Fiction Factory.
IKEA / INGKA
In the past 3 years, we have done two collaborative research projects for IKEA and INGKA. In the first collaboration we researched the possibilities of customized production with large scale 3D printing. The second collaboration was about opportunities for additive manufacturing, using waste streams from IKEA as a ground material.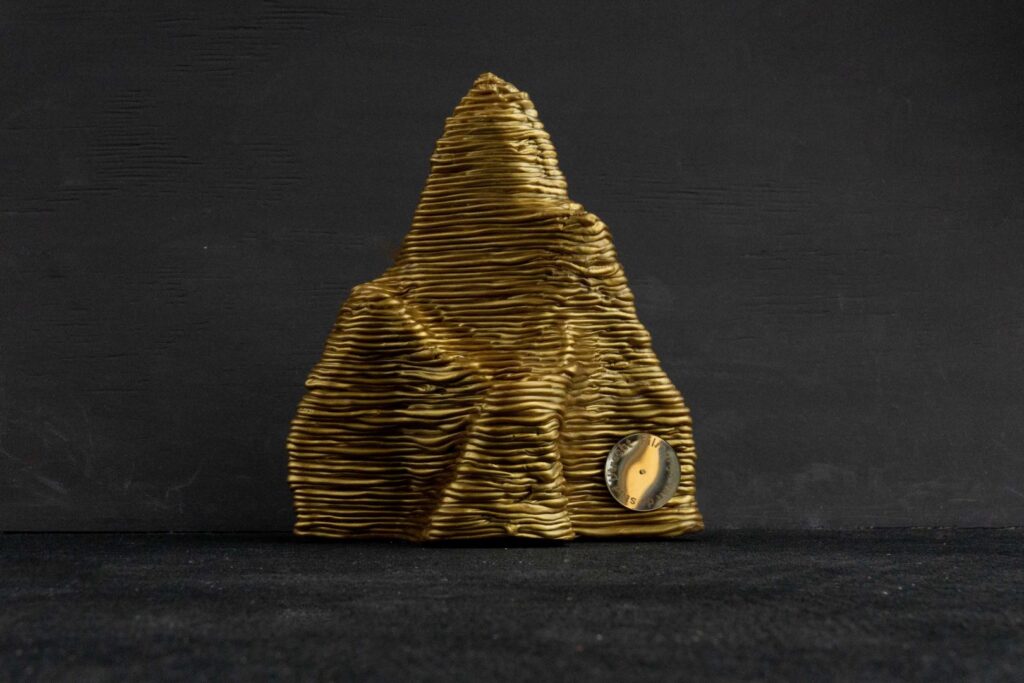 Nederlands Film Festival
The Dutch Film Festival handed out a new award in 2020: The Golden Mountain. This mountain was designed by Noor Nuyten and produced by us. The Golden Mountain is made from old videotape cases and contains actual gold!
Do you want to find out more? Then watch this video about this award.
In collaboration with Better Future Factory, we made a series of products for AVR. AVR is a large waste processing company that focuses on recycling residual (household) waste. We made stools, a high table and a pulpit for them. The stools are extra special, because of the combination of materials that we used. We 3D printed the frame, but the top is made from old jeans. Design studio Planq made this beautiful plate material.
Get in touch
Did you get curious after seeing all these projects? And are you considering starting your own project?
Send us an email or fill in the contact form below: